Your

car or RV windshield glass, isn't just ordinary glass.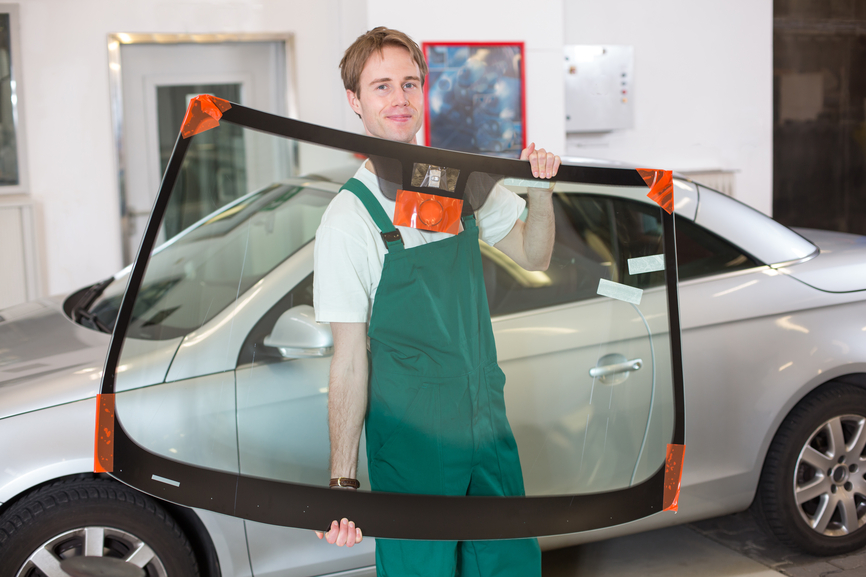 Manufacturing a car or RV windshield has come a long way from just a piece of glass.
A windshields original intent was to stop wind from blowing hair around and to stop bugs splatting in theirs and their passengers faces. Things have sure changed and have come along way since then, the automobile industry's primary focus is now on safety and in the past two decades they have completely changed the way purchasers shop for vehicles. Now, features such as side airbag protection and anti-lock brakes are as important to a consumer as fuel efficiency or reliability.
There is one aspect of automobile safety however, that most people give almost little thought to, yet it is vital to the safety of a car-the windshield.
Most people don't realize that modern day windshields are actually safety devices in themselves, designed to work in partnership with the car's other governing structure. Airbag systems, for example, need the strength of a properly secured windshield in order to work properly. If the airbag deployment caused the windshield to pop out, the airbag would not provide the designed protection to the driver's or passengers head.
Windshields are also strong. Structurally, they account for about 20% of the overall structural integrity of a car, which is important for many reasons. Besides preventing passenger discharge, the strength of the windshield helps prevent roof cave-ins in rollovers. Fortunately for Canadian drivers the government requires that all new cars be certified to meet specific standards and to be completely tested.
Problems occur with day to day driving on our dirty roads, if you have ever driven on the Deerfoot then you know all about it. When windshields become damaged. Even a tiny chip or crack can compromise the integrity of the entire windshield, leaving the driver at risk in an accident. A chip or a crack in the windshield does not require complete replacement. If caught early enough, a full fix can be achieved, so all repairs should be performed quickly, and can actually be done quickly and safely and at Mobile Windshields Calgary. Give us a call!!
We not only fix car windshields, but if your RV gets a chip or a small crack, we can do them too, actually we do all sorts of RV Autoglass, including all the side windows too. And, if the crack isn't reparable, we do do full RV windshield replacement and can actually come to you rather than you dragging your RV into our workshop. If you're worried or not quite sure what needs doing, call us and we'll offer you no obligation advice.
We look forward to hearing from you!