What

to Do After You Replace Your Windshield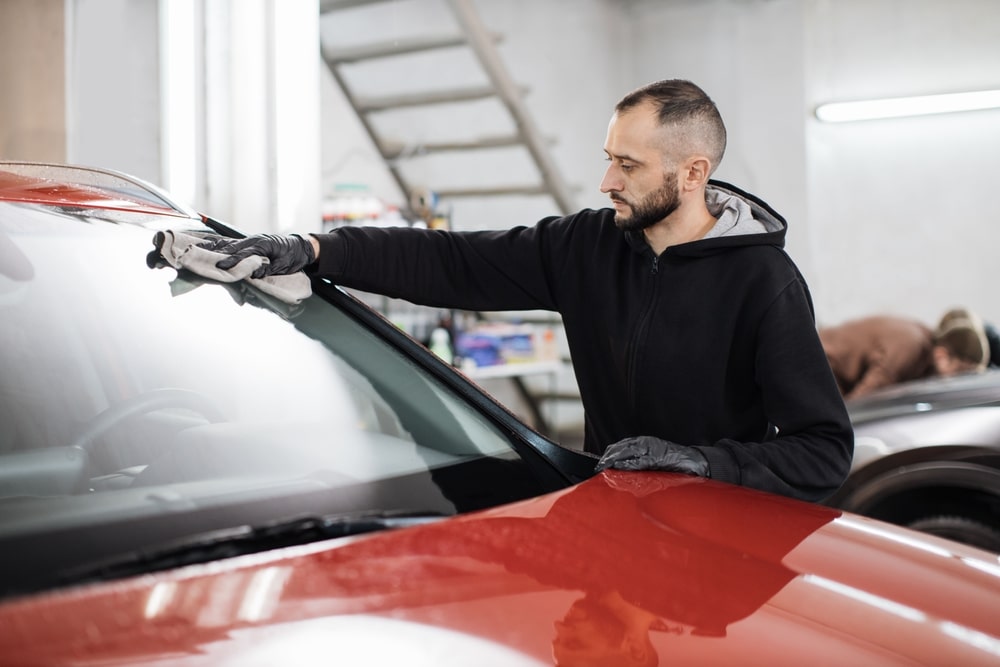 After investing your time and money in a new windshield replacement, one of the last things you'd want is to damage your windshield by not taking proper care of it after installation. Although poor installation can play a factor, the lifespan of your windshield hinges on the precautions and care you take after a windshield replacement.
It's essential to keep in mind that the first 48 hours after your windshield installation is when it's the most vulnerable. After your auto glass service is finished, there is some windshield replacement aftercare that you should do. In this blog, we'll go over what you need to do after replacing your windshield.
How to Properly Care For Your New Windshield After a Replacement
The First 24 Hours: The Most Crucial
The first 24 hours are when you need to be the most careful. It's important to follow all these steps to help ensure your new windshield replacement has a long life.
Look for Shards of Glass When You First Enter Your Car
When you first enter your car, be careful and look for any glass shards that may be left over from the old windshield. In most cases, your windshield replacement technician will do their best to ensure no residual pieces are left behind, but there's always a chance. It doesn't hurt to thoroughly vacuum your vehicle's interior before driving it regularly.
Give Your Windshield Replacement Time To Cure
When you first replace your windshield, your technician will use a strong, waterproof adhesive to create a new seal around the windshield. This seal takes time to bond to the vehicle frame and will need time to cure and dry. In order to have a strong bond, it's recommended to let your car sit for at least one hour after replacing your windshield.
By waiting a minimum of an hour, you help prevent road vibrations, debris, weather and other factors from compromising the adhesive's ability to cure. Although not the most optimal solution, if you could refrain from driving your vehicle for the entire day, it provides the best seal.
Leave the Retention Tape on Your New Windshield
Once your windshield replacement is complete, the technicians will put a temporary retention tape on the edge of your windshield. Removing it too soon after the installation is done can allow debris and other elements to affect the adhesive's drying process. It's important to leave the tape on for at least 24 hours.
What To Do 48 Hours After A Windshield Replacement
As your new windshield acclimates and cures, there are still some important steps to keep in mind for the next 48 hours after installation.
Leave The Windows Cracked Open a Little
One of the most common reasons a new windshield will crack after a replacement is due to high internal pressure. This is more prevalent if your windshield is replaced in summer when the air pressure is higher. When high air pressure is exerted on the windshield's adhesive seal, it is more prone to cause a leak and jeopardize the glass's structural integrity.
To help prevent high-pressure build-up, you can crack the windows slightly to allow some air out and reduce the chance of pressure build-up. It's best to crack your windows at least one inch.
Keep Covers, Shades And Objects Away from the Windshield
When the adhesive is still drying and curing, it's important to keep anything from coming in contact with it. This applies to everything that can come in contact with your windshield, both inside and outside. When things come in contact with your windshield after its replacement, it can add unnecessary pressure on the seal between the vehicle frame and the windshield. The outcome of this can be a leaky seal or even a crack.
Especially in the first 24 hours, you'll want to ensure that all objects are away from both sides of the new windshield. For example, if you usually put a cover over your vehicle, it's best to leave your vehicle uncovered. This also includes objects inside the vehicle, such as sunshades, stickers, and other items that can push against the windshield.
Avoid Getting Your Windshield Wet
After you get your windshield replaced, it's best to avoid getting it wet. This includes power washing your vehicle, taking it through a car wash, and even driving in the rain. Car washes and high-power washers can put too much pressure on the adhesive, affecting the seal. You'll also want to use caution with any detergents and cleaners you use on your vehicle. Some standard car cleaning products or soaps can be very harsh on the adhesive.
It's also worth avoiding wax treatments or detailing on your car for 48 hours. Even if you advise your auto detailer that you just had a replacement, some technicians may unknowingly wipe away some of the adhesive that hasn't fully cured yet.
Be Gentle With Your Car
In order to give your new windshield the best chance to dry and adhere properly, you'll want to treat your vehicle gently afterwards. It's best to try to avoid large potholes, speedbumps, dirt roads, and other road conditions that could bump or rattle your vehicle.
Especially in the 48 hours, you'll want to close your doors, hood, and even the trunk softly. If you end up slamming one of these parts, there is a higher chance that you will affect the windshield's seal.
Windshield Replacements In Calgary You Can Trust
No matter if you're looking for windshield chip repair or a full-on windshield replacement, you'll need a trustworthy and experienced auto glass repair shop. Our team of certified technicians at Mobile Windshield Replacement can help you with all your auto glass repair services. Our technicians are certified with decades of experience, so you can feel confident knowing you're getting the best service possible.
We pride ourselves on providing the highest quality windshield replacement services. In addition, all of our windshield replacements are backed by a lifetime workmanship warranty. Call or text us at (403) 992-9222 or fill out our online request form for an instant quote.